These works challenge perception of the iconic image of Mona Lisa, in an age of mass reproduction and traces the uncontaminated original and its inevitable decay. Works in this series, dramatize the life of the iconic image in the age of "mechanical reproduction," as theorized by Walter Benjamin. The recent auction of the replica of Mona Lisa in Louvre fetched €300,000 casting question on the motivation of the art buyer?!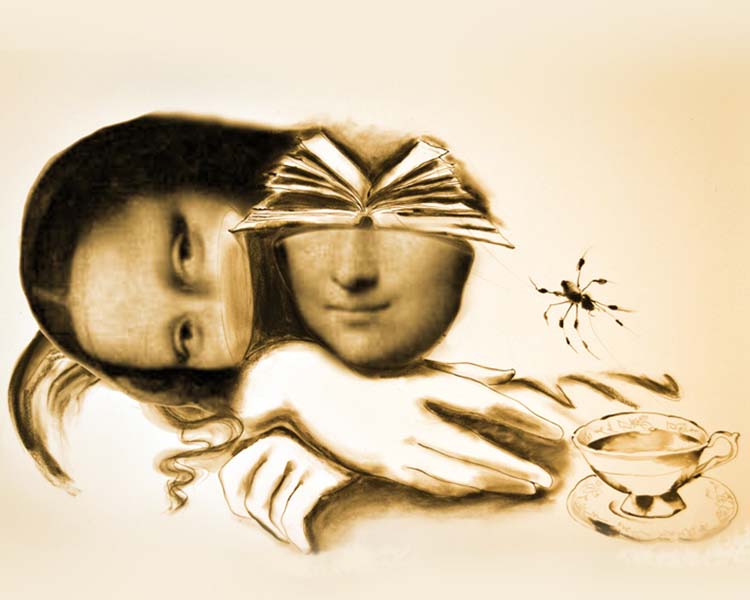 Solitude
This work consists of the image of Mona Lisa is split sideways, and placed alongside are the familiar aspects of an open book, and a teacup. Hands crossed in quite reflection, the fragments of the original coexist with objects signifying memory and fantasy—the spider hovering around looking for a spot to start building its web.
Mostly Untitled
The Heraldic Mona Lisa: Literally incarnated as the antlered goddess of ancient Europe—who was later demonized as the devil by the medieval Church—her head is half submerged in the collective consciousness, with ants circling it. The surface around is thick, gluey, that is slowly engulfing her: a divine figure in Greek mythology, associated with wilderness, sexuality and the life cycle, this image marks the end of that collective fantasy of renewal.
Precious Possession
tackles the dichotomy of the original and the reproduction. This image literally embodies Walter Benjamin's theory of "aura," where the original and the reproduction tussle over ascendancy in the age of democratized art. Stacked in a drawer, the original is cast in its miniaturized visual precision, standing out against the spectral image of the original that still occupies most of the space in the frame.
Unmasking
Mona Lisa sits with the mask of Frieda Kahlo. Here Kahlo's turbulent life has been anesthetized by being turned into a mask to be held by the same hands that were in quiet repose in the first image of the series. In this picture Mona Lisa also has become the bearer of her long history—as the original Lisa Gherandini, the wife of the Florentine aristocrat Francesco del Giocondo, whose portrait by Da Vinci was acquired by Francis I of France, and now displayed at the Louvre. The atmospheric illusionism of the original has been replaced by a wall-papered background, highlighting Mona Lisa's domestication as an object in a bourgeois drawing room setting.
The Key to Enigma
The work Literally materializes the enigma that is Mona Lisa by representing the multiple keys to her mystery, while still retaining part of the mask. The painting also shows the effects of unmasking as re-masking."
The history "Death of an Icon" series accumulated over time added a certain something to the works themselves. Couple of pieces from the series showed for the first time at Religare Art Gallery, Saket, the year before.  Lyla Rao the curator at the time was amicable and very helpful.  People like that are hard to connect with on social media…I digress….  It has shown in many places here in the States, selected by various curators, James Patrick Reid, Evonne Davis, Armisey Smith, among them.  The works circulated from New Delhi to the Prince Street Gallery, Chelsea, NYC, SVA Gramercy Gallery, Monmouth Museum, Goggleworks PA, Phoenix Village Art Gallery, Jewish Museum of New Jersey, Walsh Gallery at Seaton Hall and other places…
Essay by Anindyo Roy
Anindyo Roy is Associate Professor in English and teaches critical and postcolonial theory, postcolonial African, Caribbean, and South Asian literatures as well as early twentieth-century British literature. His essays have appeared in journals such as Boundary 2, Criticism, ARIEL, Women: A Cultural Review, Colby Quarterly, Mediations and Journal X. His book entitled Civility and Empire (Routledge: London and New York, 2005) is a literary exploration of the culture of civility operating in nineteenth and early twentieth-century British colonial society. Among his many publications, is:
"Nationhood, Power, Identity." Mediations 17.1(December 1992): 92-98