When I first embraced Mona Lisa as an icon for my "Death of an Icon" series in 2012 it was because her face was recognizable no matter where I placed her. And placed her I did or displaced her as the case may be when I dressed her in a chunni (transparent veil worn on the head) and gave her henna tattoos in the palm of her hands, in the pattern of Louis Vuitton prints and made her posture like Madhubala in the movie, "Mahal".

It wasn't until recently when I found her face slapped on a Louis Vuitton showroom on 5th av with those prints all over her.  Suppose the prints belonged to Louis Vuitton to begin with.  The oversize Mona looming over 5th av traffic commanded a presence larger than her original counterpart and stirred up a mini outrage in me however unfounded!  I thought of putting the two together first, no fair I thought in quiet desperation.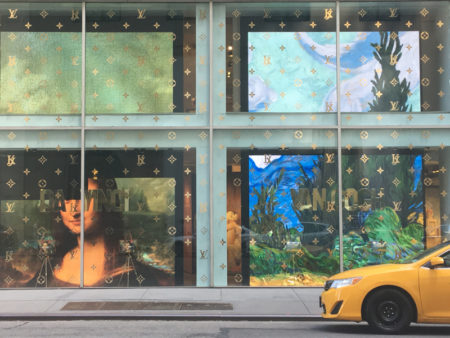 It made me revisit a Facebook conversation that turned sour rather quickly with Todd Levine, a curator and art advisor in NYC. In response to an article published on CNN, that quoted a Nigerian visual artist Victor Ehikhamenor saying, "For the thousands of viewers seeing this for the first time, they won't think Ife, they won't think Nigeria," about Damien Hirst's "Golden Heads" at the Venice Biennial. The crux of the article being that people would more readily recognize Mr Hirst's Bronz heads in Venice over their African originals. And here's Mr. Levine's (curator and art adviser based in NYC) explanation as to why the viewer might automatically draw a parallel with the original, despite not having any mention of the name of the specific artist: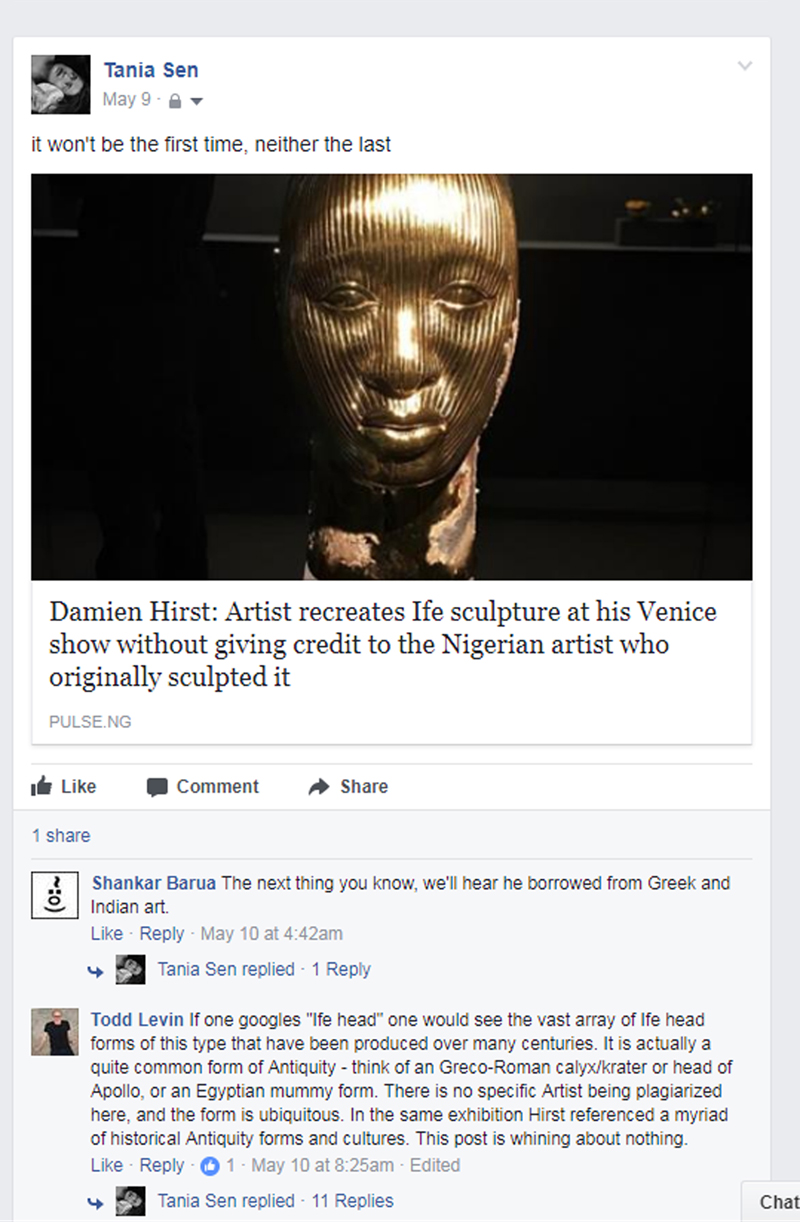 Fine arts is increasingly being used to advertise, the reason?
"Art is a sign of affluence; it belongs to the good life," Berger wrote. "It is part of the furnishing which the world gives to the rich and the beautiful." Berger also noted the "cultural authority" art brings to the product being advertised, with canonical works from history treated as floating with ethereal levity above capitalist materiality. Even as advertisements endeavor to sell you something, art provides "a form of dignity, even of wisdom, which is superior to any vulgar material interest." – Artsy
---

An element of conspicuous consumption, the beauty of art is not adequate any longer, it needs to deliver intrigue and controversy. A replica of Leonardo da Vinci's famous Mona Lisa painting is going on sale in Paris, where it is expected to fetch up to €300,000 ($365,645; £257,813). The theft of the Mona Lisa from the Louvre in 1911 caused an international sensation. Vincenzo Peruggia, an employee of the world's most visited museum, hid in a cupboard overnight to take da Vinci's painting.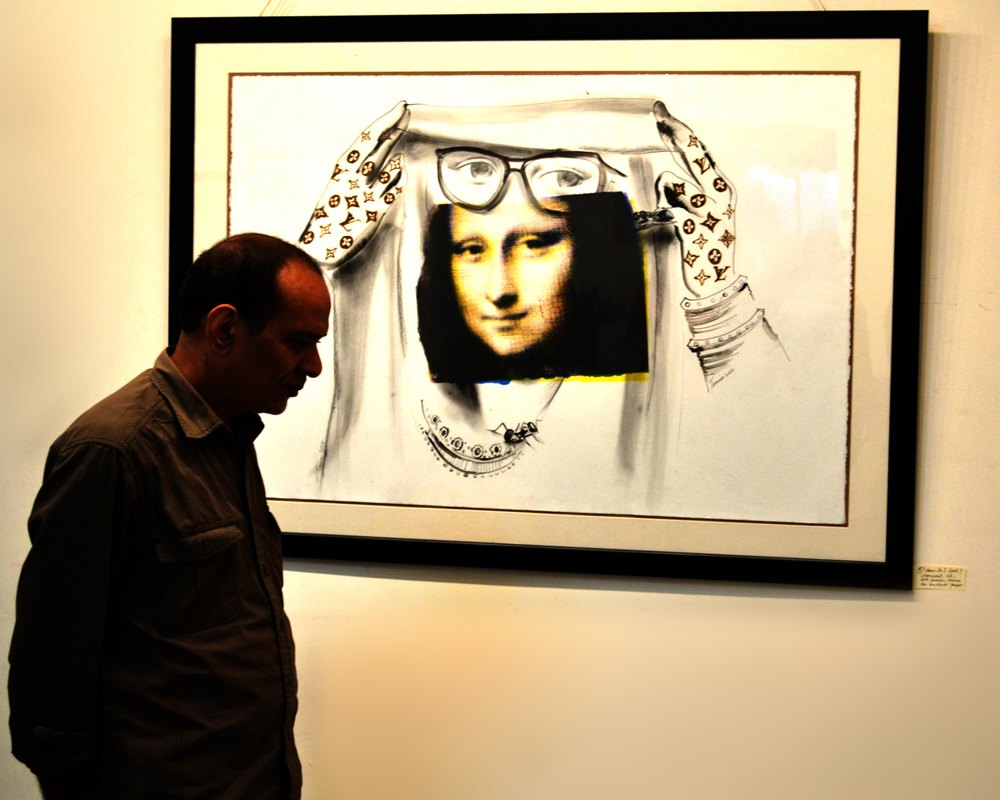 Mona Lisa being among the "Portraits Completed" campaign that brought the award of the "Gold Lion" to Ogilvy Chicago for concept and design. The ad was for Kiwi shoe polish. Now here's the next part of the Facebook conversation: The reason for my sharing this instance is to make a point about the futility of the article not to mention my conversation with Mr. Todd Levin.
Flipping Art
The indisputable truth of the article in the end is quite futile given that, today's art lover and audience is much more likely to respond to the multiplicity of the shiny mass produced Bronze heads by Mr. Hirst and may choose to remain oblivious about their African original.
It is no longer about the art! In Mr. Levine's own words, "the amount of money sloshing around in the market, and that's due to an excessive amount of excess capital in the hands of a smaller group of people. They're certainly not going to put it in a bank at 1%, they're certainly not going to hide it in their mattress, so they need to find assets. Art has been a favored location to place a portion of one's assets."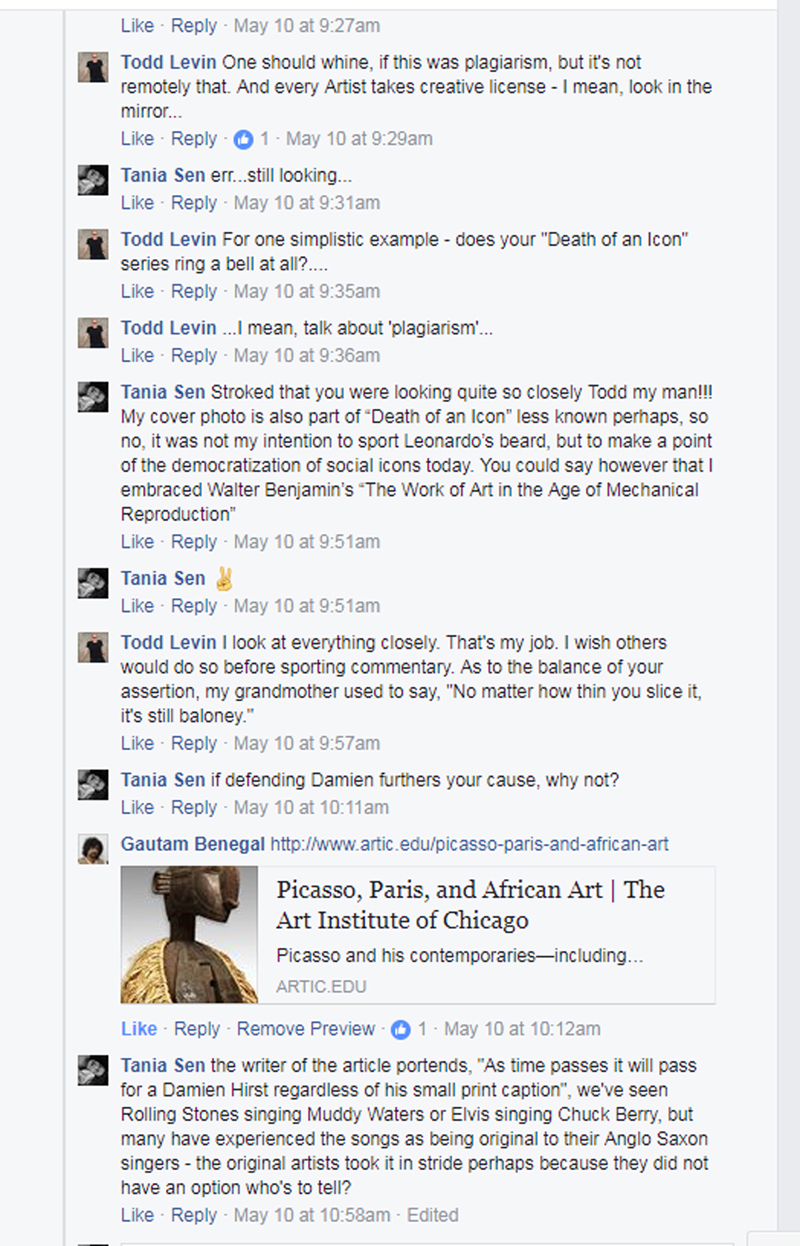 There has been a strong interest lately in flipping. Collectors buy extraordinary young art and then immediately put it up at auction, flipping that work for five, ten more times than the initially purchased price , from only six months, a year or two ago." – E-flux
Art is no longer for keeping and cherishing, rather a commodity to be pimped out in the market for a quick turnaround. The impact of the heads would last for as long as social media and the dealers scream about them, and then, they too will succumb to the eventuality of the silence of the masses, swallowed whole by the shadow of the "silent majority".
"In a media society meaning has no meaning anymore: communication merely communicates itself."
This ideological terrorism may just be the end of the "social" as pointed out by Jean Baudrillard. Once again, in my conversation with Mr. Levine, I had mentioned how "Death of an Icon" addresses the democratization of social icon from the perspective of mechanical reproduction. As an afterthought, I might go as far as to add that the culture of art "flipping" might in fact lead to the Death of Art itself!